Friends of
Northwood Church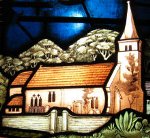 Founded as an independent organisation its object is to raise money for the upkeep of the building of St John the Baptist, Northwood.
Friends of Northwood Cemetery
Friends of Northwood Cemetery is a volunteer organisation committed to the preservation, conservation and restoration of Northwood Cemetery.
Northwood Cemetery is located along Newport Road in Cowes so please do not confuse it with the cemetery surrounding Northwood Church to which this section's burial database refers.