Northwood Village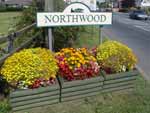 Welcome to Northwood Village.
.
The Village lies to the south of the Town of Cowes on the Isle of Wight (see map). This area has been occupied for nearly 1,000 years as documented in Anne Brooker's article.
.
The Village has a school (Northwood Primary School), a church (St John the Baptist) and the W.I. Hall that is used by many organisations.
.
To find more of the Village amenities use the Village Map and click on the markers to see images of the locations.
.
The Village People section holds information on some of the current and former residents of the Village. Some people are famous, some are not but they all have a story to tell and a common link to the Village of Northwood.