COWES-DEAUVILLE TWINNING ASSOCIATION
Posted by Admin on 27 July 2011, 11:10 pm
COWES-DEAUVILLE TWINNING ASSOCIATION

AGM CHANGES TO COMMITTEE for 2011 / 2012
Election of Officers
President: Mr Barry Bates         
Chairman: Mr Barrie Clarke           
Vice Chairman: Mrs June Powis           
Minutes Secretary: Mrs M. Hopkins           
Treasurer: Mrs J. Fuller & Mrs V. le Goff           
Social & Funds: The post to be shared by Fund-raising Committee (J. Isham to be in an advisory capacity)
Membership: Mr Peter Ash    
Executive Committee: to include all of the above and others may be co-opted.
Social & Funds Committee:  J. Isham,  G. Isham,  B. Bates,  M. Hale,   B. Clarke,  G. King.
PROGRAMME FOR THE FRENCH VISIT TO COWES JUNE 2011
Fri 24th 2.00pm (approx.) FRENCH ARRIVE HOVER TERMINAL, RYDE
EVENING FREE WITH HOSTS
Sat 25th 11.00am  RECEPTION at the WOODVALE, GURNARD
12.00 noon  FOLLOWED by BUFFET LUNCH
7.30 for 8.00pm DINNER at the NEW HOLMWOOD, COWES
Sun 26th 9.00am COACH DEPARTS COWES for EXBURY GARDENS.
(Pick-up stops and times TBA)
5.30pm COACH RETURNS to COWES
8.00 for 8.30pm BUFFET and HORSE RACING at St MARY'S CHURCH HALL, COWES
Mon 27th 1.00pm (approx.) FRENCH DEPART HOVER TERMINAL, RYDE
If any of the hosts are not able to attend any of the events due to unforeseen circumstances then please let Barrie Clarke (882334) or Peggy Hopkins (294704) know as soon as possible.
---

REPORT ON THE VISIT TO DEAUVILLE IN DECEMBER 2010 FOR THE 150th ANNIVERSARY OF THE FOUNDING OF DEAUVILLE
This is a report on a weekend visit to Deauville by members John & Jenny Fuller and Bob & Anne Lancaster to join the 150th Celebrations of the founding of Deauville.
They took with them paintings showing the Marie (Town Hall) of Deauville over the four seasons by artists of St Mary's Church Art and Craft Group.
Also, some Members of the Cowes Association made needlework presentations of a Celebration Cake.

"On Saturday morning the Cowes members  were taken to a Calvados Distillery in Pont L'Eveque. This was a very interesting tour and (obviously!) they all had samples at the end.
After lunch (with their hosts) they went to the Exhibition Centre at Club 2010 for a talk by Mary Glennon from Kildaire, Ireland who spoke about her favourite book, To Kill A Mocking Bird by Lee Harper. This was a fascinating talk as she also spoke about other books she had read from child to adulthood.
Afterwards there was a public presentation of all the paintings, needlework cakes and photos that had been taken during a previous visit to Deauville by Twinning groups. The Mayor of Deauville gave a formal welcome and speech about the exhibition and where the displays had come from.
After all the presentations of  the various gifts we were taken to the Church for a concert by the 'Chorale de la Cote Fleurie' from the nearby village of Blonville-sur-Mer. This was an excellent concert with sacred chants, Noels de France and Traditional Carols.
The day ended with a dinner at the 'Pole International du Cheval' restaurant. This facility was opened last summer and is currently used for training the French Equestrian Team for the Olympics.
On Sunday there was a visit to the 'Musée de Normandie'. Unfortunately, the ferry beckoned and so the farewell lunch with the twinning groups was missed.
The paintings and needlework examples were donated for permanent display."
Pictures below show examples of paintings and needlework from Cowes.
Also shown are Mr and Mrs Fuller and Mr and Mrs Lancaster, and a group photo of all the attendees to the celebrations.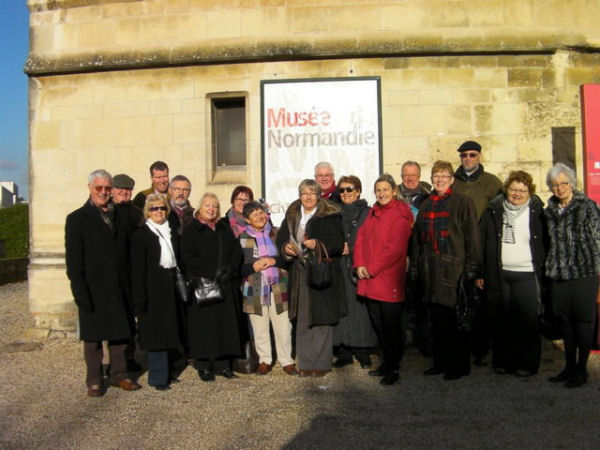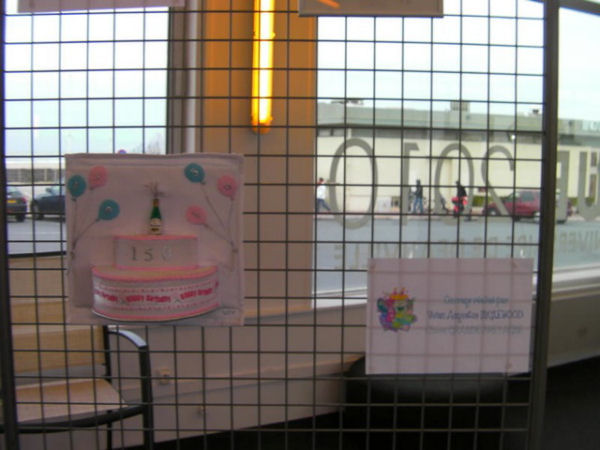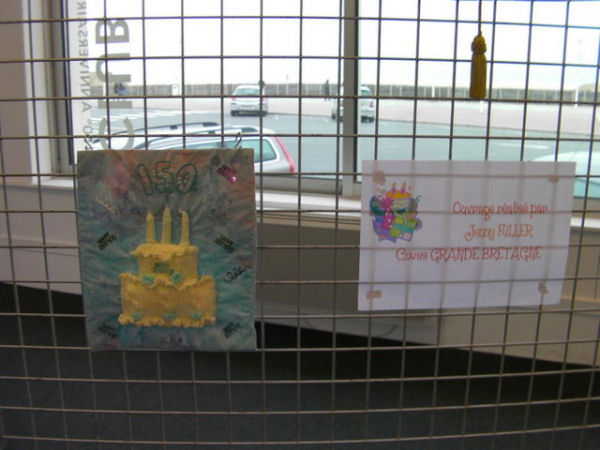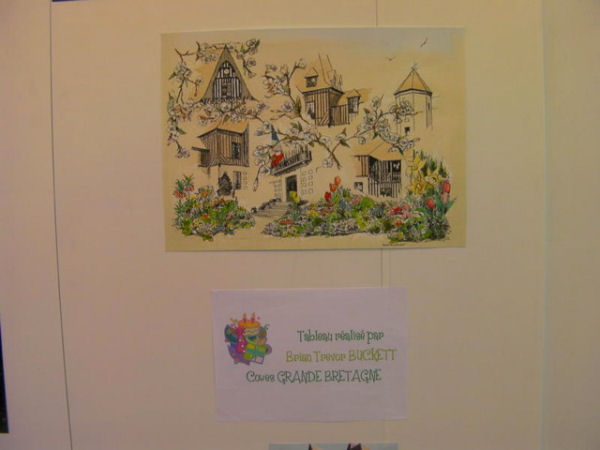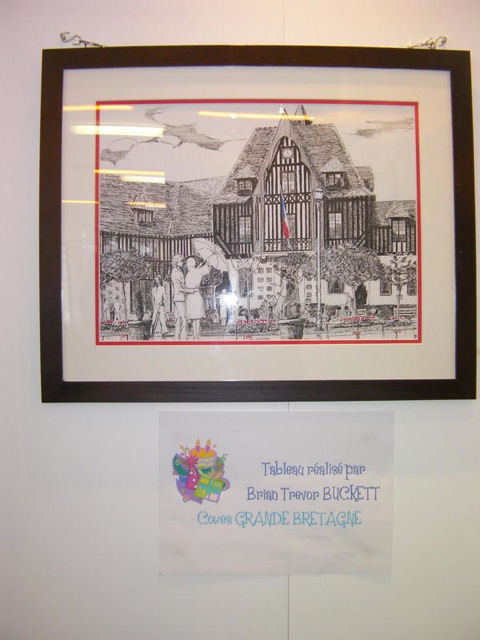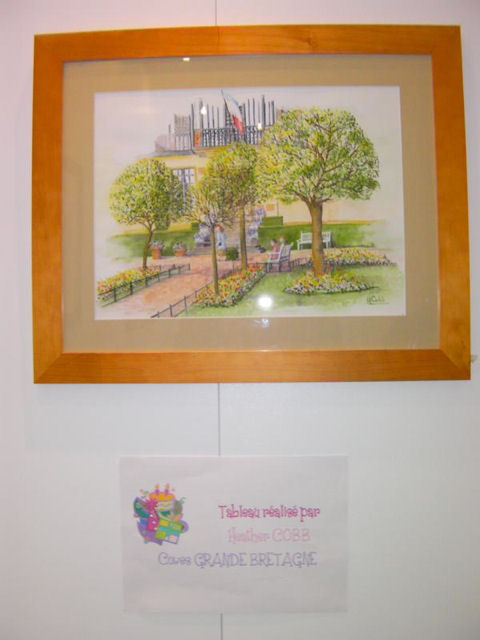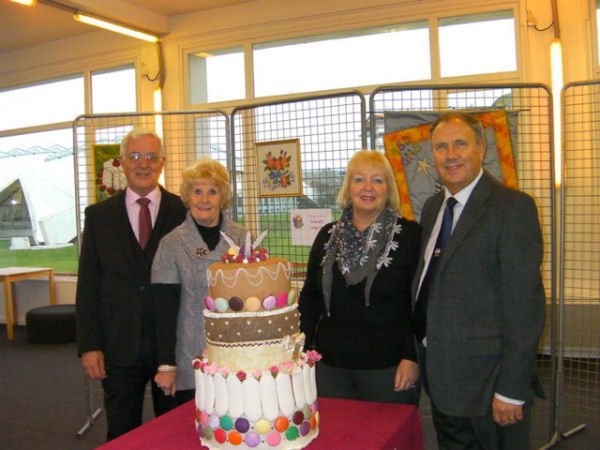 REPORT ON THE VISIT TO DEAUVILLE JUNE 2010
This year it is the turn of our French friends in Deauville (near Le Havre) to be the hosts for our annual 'Get-Together' visits.
Friday morning saw thirteen members from the Cowes-Deauville Twinning Association boarding a Brittany ferry from Portsmouth with good weather that fortunately continued throughout the weekend.
That afternoon we landed at Ouistreham and were greeted with the usual Gallic enthusiasm (lots of kissing of cheeks).
We all spent the rest of the day at home with our host families to renew friendships and exchange gifts.
Saturday morning began with a formal reception at the charming civic chateau Villa Strassburger in Deauville.
The photograph shows Madame le Maire Adjoint de Deauville, Isabelle Patry-Santos, giving thanks for a wine carafe with silver chain and label presented by the President of CDTA, Mr Barry Bates (left), as a gift to the town of Deauville.
The President of the Deauville Twinning Organisation, Monsieur Philippe Behuet (centre) also formally welcomed us: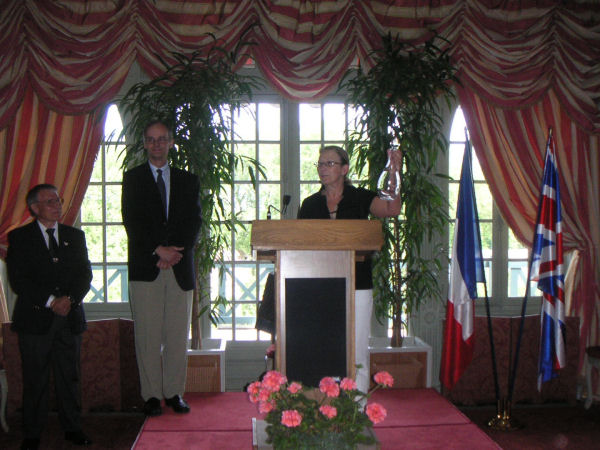 We were then given a guided walking tour of some of Deauville's famous buildings, such as the 'Casino de Barriere Deauville and the famous Hotel Normandy Barriere.
Later that evening we were whisked off to a country restaurant to enjoy dinner with some excellent French wine.
Sunday saw yet another hectic day. We all gathered early morning in Deauville to be given detailed instructions for a "Mystery Car Rally" , luckily in both English and French.
We toured through some attractive villages such as Beaumont-sur-Auge where we sampled some locally made chocolate at a 'Chocolaterie' .
Next stop was a pleasant lunch at a lakeside restaurant in Pont-l'Eveque.
As we left there we found ourselves surrounded by eager supporters at the finish of a chaotic local bicycle race.
We continued our rally with more searching clues until we finished for tea and cakes in the gardens at yet another fine Chateaux: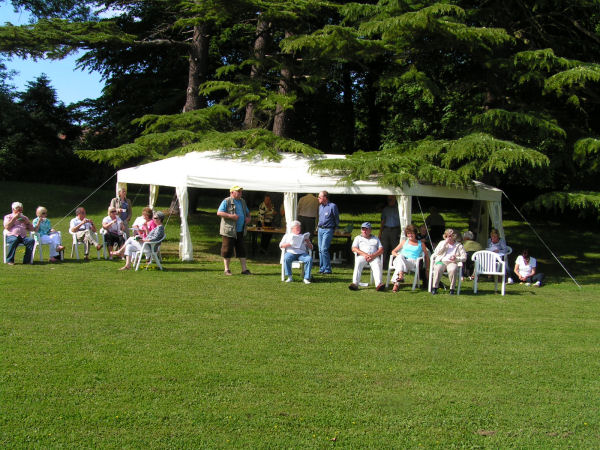 A group photo of English guests with their French hosts on the front steps of the chateaux: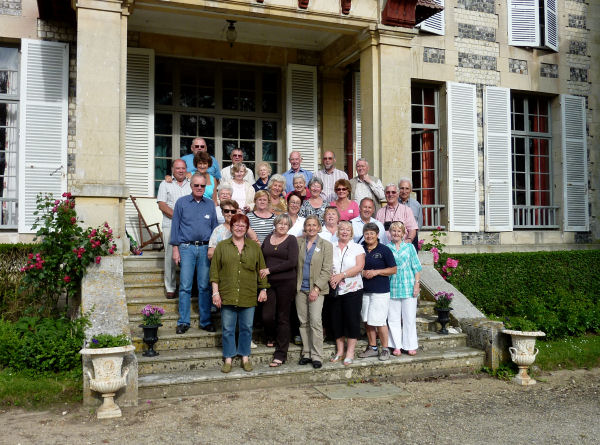 That evening we attended the prize giving for the winners of the Car Rally followed by a buffet feast (so much good food!).
This photo shows the winning team, John and Jenny Fuller and their French driver Katherine (right), with their bottles of champagne: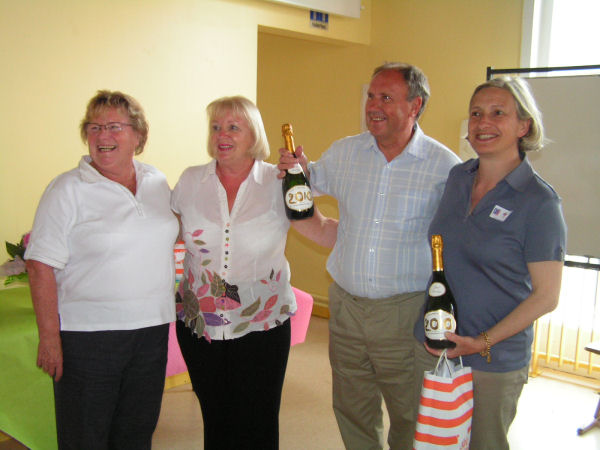 Monday morning came all too quickly.
We had such a good time with our hosts that it is was a sad " Au Revoir" for our return home.
Other photos of the 2010 visit:
Car Rally, Chatting to a friendly calf: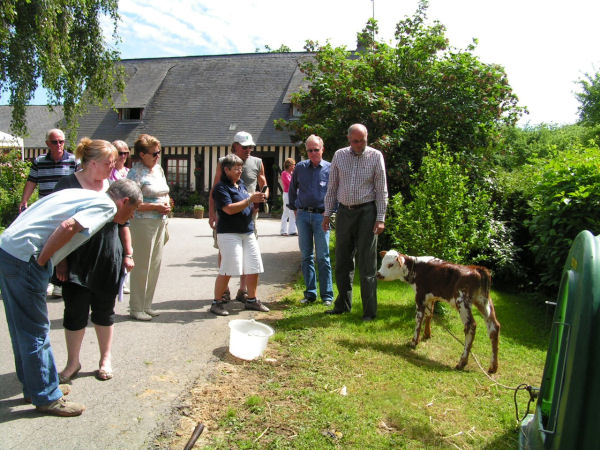 Car Rally, Jules the Cider Farmer explaining his trade to our group: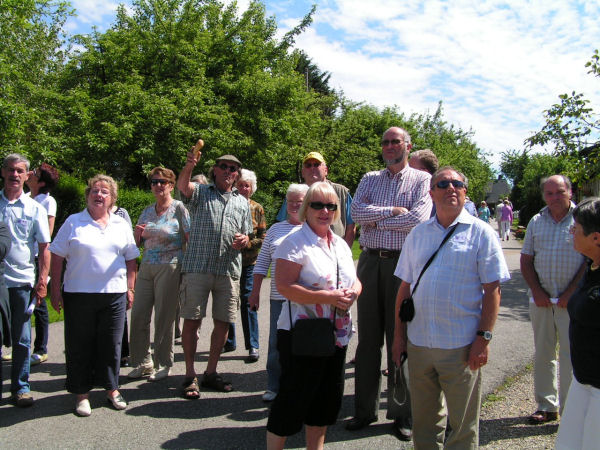 Car Rally,  Typical Cider Barn: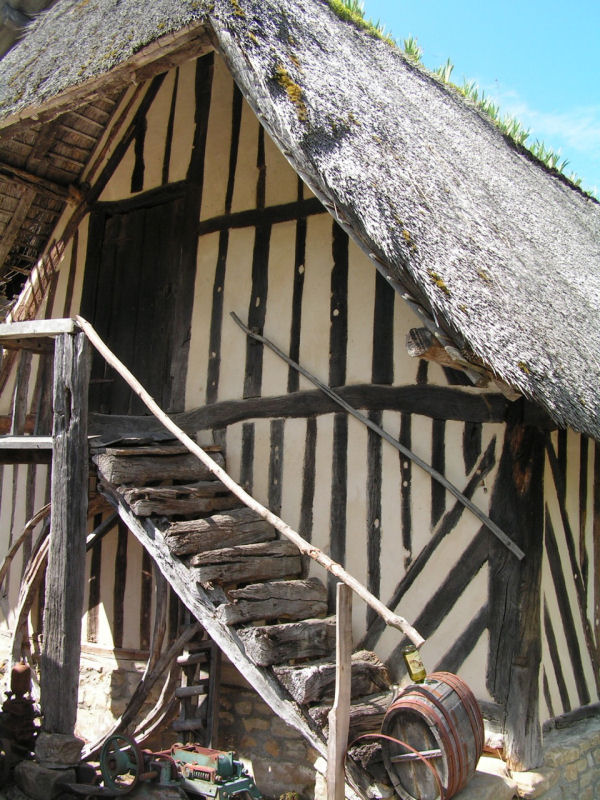 Car Rally, Ancient Cider Press: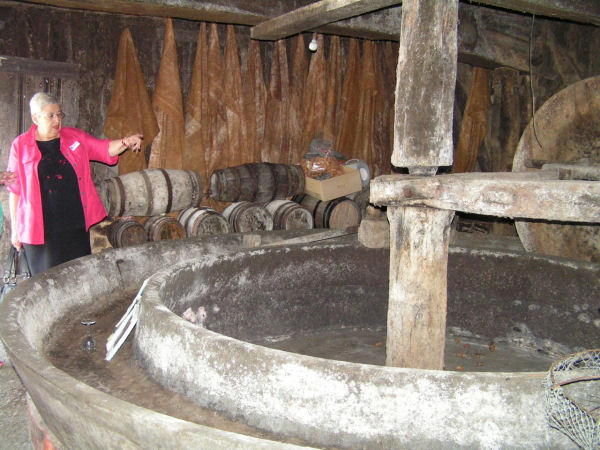 Car Rally, Sampling Jules's Cider (Smooth as silk!):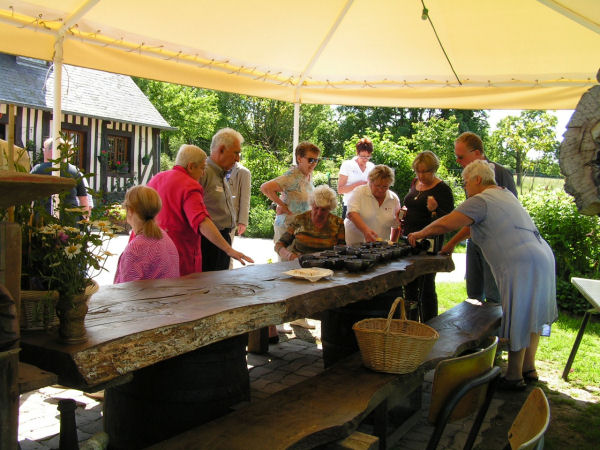 Our Association always welcomes applications from anyone who is interested in forming friendships with a French family and who also have a connection with the town of Cowes.
This connection can be having (or had) an address or employment in Cowes or its neighbouring areas, or have a close interest within the region.
Please contact Barry Bates at      batesbarry@onwight.net      for further information.
---

This Association was formed in 1964 with a view to furthering social, cultural and sporting exchanges between the citizens of both towns.
A Twinning Charter was duly agreed and signed by the serving local officials:
Chairman of Cowes UDC:
Cllr E. J. Powell
and
Maire de Deauville:
Monsieur Michel d'Ordano
This Charter was later re-affirmed in June 2004, again by the local
officials:
Mayor of Cowes Town Council:
Cllr A. L. Wells
Maire de Deauville:
Monsieur Philippe Augier
The Association is primarily concerned with cultural exchanges rather than promoting trade but, nonetheless, the many French visitors invited through the Association's activities help to promote the name of Cowes to the French communities of Deauville and Normandy.
Over the ensuing years the Association has promoted visits to Deauville by both our members and various groups having a common interest, for example: Cowes members of the Isle of Wight Fire Brigade Royal British Legion Youth Band, (which has been invited to attend many Armistice Day services and Bastille Day celebrations at Deauville); sporting groups such as Judo; Rugby; Runners; Yachting; etc.
Visitors from Deauville have often attended Armistice Day services at the Cowes War Memorial, Northwood Park.
The Association has also been successful in finding local accommodation for French students wishing to study English.
The main event of our annual programme is the exchange visit which is hosted on alternate years by the Cowes and Deauville Twinning Associations.
These are always very relaxed occasions.
The Annual General Meeting is held during the month of May.
Throughout each year the Cowes Association also holds various social functions both to raise funds (we are entirely self-funded) and to offer members the opportunity to keep in touch as a group. These funds are used solely for the expenses arising from the entertainment of our French guests. The Cowes members are totally responsible for their own costs.
It is hoped that the Association can continue to lend its support towards a general sense of civic pride within the community of Cowes.
Membership typically varies between 45 to 50 from year to year.
All enquiries are most welcome!
Please contact John Isham (Social Secretary)
Telephone +44(0)1983 295074
All our events are advertised in Northwood News and the Village Diary on this website.