A message from The Rev'd Keith Adlam, Associate Priest.
Posted by Admin on 22 March 2010, 5:04 pm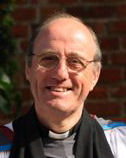 There are a number of signs that Spring is here. In nature we can see trees, plants and flowers in bud, lambing has started in many places, fields have been ploughed ready for planting. It's also the time for DIY lists to be dusted off and visits made to the relevant shops or calls made to tradesmen. Shops have taken down their "Sale Now On" signs and replaced them with different types of notices inviting passers-by to come and see their new range of goods. I saw one shop this week which told people that the new St James stock was now in, referring to a range of clothes for men, women and children and mostly, as far as I could ascertain, with a nautical flavour. But who was St James? We know that he was brother of John. The Gospels record that they were fishermen, partners with Simon Peter, and called by Jesus from mending their nets beside the sea of Galilee at the beginning of his ministry. He wrote of one of the New Testament's letters to the young but growing 1st century church covering many practical matters applicable as much then as now. He believed that Christians should demonstrate their faith in practice, another way of saying show your faith in action. Let me tell you about what I believe is a good example.
I recently bought a copy of "The Big Issue" magazine. It was set up in 1991 to provide homeless and vulnerably housed people with the opportunity to earn a legitimate income. The vendors buy the magazine for 85p and sell it for £1.70. Becoming housed is only the first step on the journey away from the streets, so the vendors are allowed to continue to sell the magazine once they have found accommodation. The Big Issue Foundation, a registered charity, provides much support to the vendors looking to address the issues which led them to become homeless. I don't know what the magazine founders' faith is but I recognise that within the framework of The Big Issue organisation there is evidence of the sort of practicality that James writes about to us. Oh, by the way, if you do get a copy of the current issue, there is a very topical issue about homelessness. Let me know what you think.
God's blessings on all of you.
Keith Adlam
Associate Priest
—————————————–
Do you know of someone who would appreciate a visit by the church? Or would you, yourself, like to meet and talk with someone from the church? Please let Lyn know or contact one of the Churchwardens whose details are given in Northwood News and in the Parish Church Officers section of this website:
We're happy to meet with you, to bring communion to you if you cannot come to church – or to explore with you if you just want to know more about the Christian faith. We are always here for you – because that's what we're about!
Lyn McRostie
Rector of Northwood.