A message from The Rev'd Keith Adlam, Associate Priest.
Posted by Admin on 19 June 2010, 3:52 am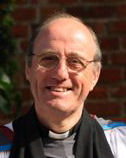 I'm writing this as the Isle of Wight Festival gets underway. Out of interest I watched the beginning of ITV's transmission of what will be ten hours of live music from the festival. "Getting ready to rock" was this week's County Press headline. The TV broadcast showed not only the band (The Doves) but the crowd, who were more swaying than rocking, but who were clearly enjoying themselves. There are different sorts of musical events – festivals, concerts, operas, shows etc. Music is available in many forms for listening – CDs, iPods, Walkmans (do I date myself?), radio, television etc. Many people old and young make their own music be it in groups or solo, with and without instruments. As we go about our daily lives we can often hear a person humming, singing or whistling. I was in one of Newport's stores recently and the lady assistant by the fitting rooms was quietly singing to herself. She clearly enjoyed being able to do so. It doesn't take rocket science to realise that music plays a large part in our lives.
Most faiths have music, accompanied by instruments or otherwise, as part of their worship. In the Christian faith, with which I am most familiar, there are probably as many different forms of music as there are church traditions. All however, seek to enable people to express their feelings to God. Such feelings may not just be worship; we can express sorrows and joys in music. In the Bible there are a number of places where individuals or groups express themselves in song. The book of Psalms (not all written by David) is possibly the most well-known place to look for such songs. One hundred and fifty chapters cover so many aspects of the feelings and emotions we have. Probably the most well-known psalm is Psalm 23.
It is interesting to discuss with people their likes and dislikes in music, whether sacred or secular. Some are fairly fixed in their views, others are more flexible and like to hear and try alternatives. The composer Bach would use some of his sacred music for his other compositions and William Booth is supposed to have asked why the devil should have all the best tunes. I take the view that God has given us music to enjoy in whatever way gives us pleasure – perhaps you might like to let me know your own choice or choices.
I don't know about you but I confess I enjoy singing. I don't always know the words in my "repertoire" so I wouldn't be any good at Karaoke. However, I take encouragement from Psalm 100 whose early verses say "Make a joyful noise to the Lord all the earth. Worship the Lord with gladness; come into his presence with singing."
God's blessings on all of you.
Keith Adlam
Associate Priest
—————————————–
Do you know of someone who would appreciate a visit by the church? Or would you, yourself, like to meet and talk with someone from the church? Please let Lyn know or contact one of the Churchwardens whose details are given in Northwood News and in the Parish Church Officers section of this website:
We're happy to meet with you, to bring communion to you if you cannot come to church – or to explore with you if you just want to know more about the Christian faith. We are always here for you – because that's what we're about!
Lyn McRostie
Rector of Northwood.