AUTOBIOGRAPHICAL NOTES
Posted by Admin on 25 July 2011, 11:50 am
Born in Cowes 25th August 1910.
Domestic status: Bachelor.
Died in Northwood 13th July 2007.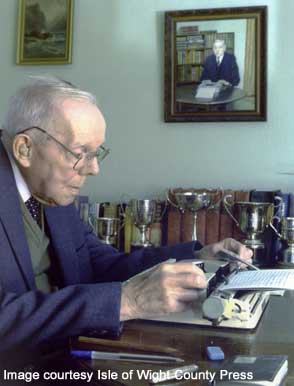 Parents:
Mother, Alice Mary Gates, daughter of George Gates, Master Builder and Mary Jane Frampton. Died aged 46 in 1924.
Father, Thomas William Hudson, Clerk (ex qualified Printer) son of Thomas Hudson who sailed in tall ships, died aged 41 in 1881 and Elizabeth Hammett.
See article Lost – The Barque 'Commerce' re Thomas Hudson.
Education:
Cross Street Council School, Cowes. Built late 1880s.
Cowes Central School, better known as Denmark Road.
Head boy at both. Curricula very elementary so most education acquired after leaving by means of profound reading and correspondence courses. Reached its peak during the war when tutored in Greek, French and Logic by the Reverend Constantine Sinclair, B.A., the rector of St Andrew's Church, Chale.
Career apart from literary one:
Office boy at J. S. White & Co., Shipbuilders. Five-year apprenticeship in machine shop to obtain practical experience needed by a draughtsman. Discharged 1931. Unemployed for nearly 3 years.
Means test – deprived of benefit. Labourer for grandfather.
Draughtsman at re-opened Somerton Works, 1936. Head of combined Drawing, Planning and Estimating Departments. Deputised for Works Manager. Transferred to Head Office when Somerton Works closed 1966. Retired 1975.
Writing career – Awards, Publications, etc.:
Radio Play 'Murder Remembered' broadcast on BBC Radio 2 on Midweek Theatre, 25th March 1970.
'Kairos (Selected Poems 1)' – Kairos is Greek for 'opportune moment'
'Hounds of Cridmore and other Isle of Wight Poems'
'Adrian's Ghost' published February 2006
Poems published in:
Boys' Own Paper, Best of British, Country Life, Humour Variety, Hampshire Poets, Island Life, The Islander, I.W. County Press, I.W. Poets 1 & 2, Northwood News, Parnassus World Poets1994-5-6 & 7, P.E.N. New Poetry 2, Southern Evening Echo, This England.
Articles published in:
Best of British, Exeter Express and Echo, Freelance Writing, Hampshire Magazine, Hampshire & Wessex Life, The Islander, The Sunday Times, This England, Wight Life, The Nautical Magazine.
Short Stories published in:
Good Stories, Wight Life.
Ryde Festival Awards:
Over 64 trophies.
Isle of Wight Writers' Circle Awards:
Poetry: 1st Prize 1971/2 & 1983
Story: 2nd Prize, 1971.
One Act Play: 1st Prize 1973.
Article: 3rd Prize 1970 & 1974.
W. G. & S. F. Tillyard Cup:
Poetry: 1974.
I.W. Arts Council Awards:
Alec Davies Memorial Cup
One Act Play, 1986.
I.W. Carol Competition – 1st Prize. Shield in Open Section, 1996, 1998.
Music by Andrew Norman Pellow.
Interests: Mainly cultural, too numerous to mention.
Hobby: Water colour painting.
Remaining ambition: To have a play or operetta staged.
Other Poems and Articles by Mr T.C. Hudson can be viewed by clicking on the T. C. Hudson button on the front page of this website.