David Emery Gascoyne by Judy Gascoyne
Posted by Admin on 18 October 2010, 4:23 am
DAVID GASCOYNE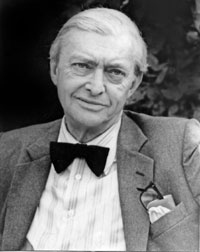 David Emery Gascoyne was born in Harrow, Middlesex on 10th October 1916.
The son of a bank manager, Gascoyne was educated at Salisbury cathedral choir school – where he absorbed something of the religiosity that became an aspect of his writing – and the Regent Street Polytechnic.
His first work, a collection of poems entitled "Roman Balcony and Other Poems" was published when he was 16, and at 19 he had published his "Short Story of Surrealism". At 20 he was helping to organise the 1936 London International Surrealist Exhibition.
Between 1954 and 1964 David lived in France, after which he returned to the Isle of Wight and lived at his parents' home in Oxford Street. After his father's death acute depression dogged him and over the next 11 years he endured further periods in hospital.
He met Judy Lewis (née Tyler) during one of his hospital stays and they married on 17th May 1975.
In 1996 he was made a Chevalier dans l'Ordre des Arts et Lettres by the French Ministry of Culture for his lifelong services to French Literature.
He died at St Mary's hospital, Newport, Isle of Wight on 25th November 2001 aged 85.
Judy Gascoyne (who lived in Oxford Street, Northwood, until her death on 14th June 2010), takes up the story :
Most friends know how we met at the Island Psychiatric Hospital where I was reading poetry to severely depressed patients. When I chose to read "September Sun" to the class, I was surprised when a tall, sad looking man told me he was David Gascoyne and he had written the poem.
"Of course you did dear," I retorted – I wasn't sure whether to believe him but, over a cup of tea, he convinced me that he had indeed written that poem.
A friendship developed when David spent most weekends at my house. My husband was having an affair and I was feeling sad too! Then David and I had a week in London due to an unexpected cheque from the Royal Literary Fund. There, David was a different person amongst his old friends, and visits to art galleries and concerts were a revelation with him. Back home we realised we had fallen in love, so, when my husband told me he wanted a divorce, we were able to clinch the deal, as it were!
So for the next few months we were like youngsters planning our wedding. Soon I went to live at David's house near Cowes, and there life was very peaceful. David was still wanting to do nothing and I don't think I put any pressure on him. Two treats for me came up, one a garden party at Buck House  because David was on the civil list, and surprisingly we both enjoyed that. The turning point was a visit to Paris at the invitation of the British Council. Once again David was in his element, and kind friends welcomed him warmly.
It was the start of many visits to Paris, and David returning to his translating again. Gradually he began to feel better and to write an occasional poem, which I was the first to read.
When he became a committee member of the World Poetry Society, it entailed travelling the world to meet poets from every country. That kept us really busy and David didn't get much time for writing. To my amazement, he often wrote poems for special subjects when asked; and he also wrote regular obituaries when his famous old friends sadly died.
In 1994 David had a really bad fall while I was out, which entailed a stay of three months in St Mary's hospital, which he hated, resulting in him becoming seriously depressed again.
For his return I installed a chair lift, which was essential. David had to stay in bed and be looked after by District Nurses.
So all our trips abroad had to be cancelled.
But then for six years we had much happiness, one of our best days out being when David went in a wheelchair to receive his Chevalier Award at the French Institute. Our lives then became quieter for a while, but thanks to the Enitharmon Press, his books of poetry and prose have been published, and he seems to be more famous than ever! Not that he ever aspired to anything like that.
On 17th May 2000 we celebrated our Silver Wedding Anniversary with a big party at the Salty Sea Dog Restaurant in Gurnard. Neville Braybrooke proposed our health, and I responded with a parody of Andrew Marvel's "Come Live With Me And Be My Love".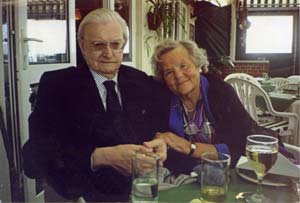 Sadly, David had to go to a nursing home for a month, to be properly nursed. Then on 25th November 2001 I joined him in St Mary's; his breathing was very laboured, and I held his hand and talked to him. Then he said "Goodbye, Darling", and with a soft sigh he died. Everyone was so kind and thankfully Stephen Stuart-Smith, David's publisher, coped with all the media. The numerous ensuing obituaries in local, national and international publications were wonderful.
The funeral was held at St John's Church, Northwood, officiated by Rev. Graham Morris, and there was a most moving address by Stephen.
Kevin read one of David's poems and Jenny sang "Fear No More the Heat of the Sun". After Graham blessed the coffin, I read Tennyson's "Crossing The Bar", which was a great favourite of David's.
After the service we all went back to our home in Oxford Street for a feast prepared by my son Kevin and daughter Sue.
I had a strong feeling that David would have approved and been very touched by all the tributes and flowers.
Judy Gascoyne (1922-2010)
November 2005
© Judy Gascoyne this article may not be reproduced without prior permission of the author

A Radio Play depicting how Judy and David Gascoyne first met, "The Sun At Midnight", was broadcast on Wednesday 7th June 2006 on BBC Radio 4 at 2.15pm.
Summary:
http://www.connectotel.com/gascoyne/
Chronology:
http://www.connectotel.com/gascoyne/gascchr.html
Bibliography:
http://www.connectotel.com/gascoyne/gascbib.html
Poetry:
http://www.connectotel.com/gascoyne/gascp.html
News Articles and Obituaries:
http://www.connectotel.com/gascoyne/gascnews.html
Associated Links:
http://www.connectotel.com/gascoyne/gasclink.html
Wikipedia – David Gascoyne
http://en.wikipedia.org/wiki/David_Gascoyne
London International Surrealist Exhibition
http://en.wikipedia.org/wiki/London_International_Surrealist_Exhibition
Links courtesy of Marcus Williamson